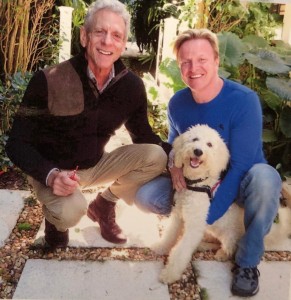 "We view our role of lecturer to be that of raconteurs of well-researched, intriguing and authentic stories, based on major historic events or people. Our goal and passion is to inform and entertain a sophisticated audience, by using hundreds of pictures and numerous audio-visual documents in each presentation.
Richard René Silvin is a historian and lecturer, who has created a library of over 20 lectures. These include the subjects of his books on the Duke and Duchess of Windsor, Addison Mizner, and the SS Normandie. In addition, he has created the series All That Glitters Is Not Gold, made up of 11 lectures about famous wealthy women who had tragic lives. 
Robert Versteeg's knowledge about music guides his topics to be more oriented towards pop icons with tragic stories.
Compliments from the audience
"My very dear Rene:
It would be an understatement to say that you and Robert lifted all of us up today, your lecture and charm an antidote to the darkness of our current world.  We are all scared,  not exactly ourselves, many depressed and you lit up the room! – Susan"
"René and Robert,
I have been trying to think of accolades that are not cliché sounding. "Hitting it out of the park" and "bringing down the house" would be two examples of what I could say about your presentation…I am still, after five days, getting comments about your "fabulosity." Now there it is…an original word. You could hear a pin drop. – Elizabeth"
"René,
On behalf of the Royal Palm Women's Club, I want to thank you and Robert for all your remarkable efforts to orchestrate a fabulous event on the Four Lives of Jackie O. We have received only positive feedback on the wonderful and detailed presentation. –  Susan, Women's Club President"
"Dear René,
Thank you for your important part in our film honoring the history and the future of the theater. We look forward to seeing you again and for your constant support. – Jill and Team of Royal Poinciana Playhouse"
"Dear Mr Silvin,
Thank you so much for your excellent history of Palm Beach preservation, which our Questers members thoroughly enjoyed. I have heard from many of our members who raved about the information, which you made come alive. – Silvia, Oceanreef Questers"
Published Works Available For Purchase
March 2021:
Thank you for the "heads up!" The program was SPECTACULAR! Circum Silvin was excellent and very authentic! Having been a ships officer in my early life, it brought back fond memories! CIRCUMNEWS at its best. 


I wanted you to know that I finished reading your book on The Normandie and found it to be a most informative, engaging and delightful read. The story is tragically compelling, particularly as the denouement all occurred as the world and the behavior of officials deteriorated relentlessly around her. So very sad, and so completely avoidable. I thought the third segment from the perspective of the ship was a tour de force. I cannot wait to hear the lecture where I am sure you bring the story to life

You wove a trilling seaman's yarn and kept my attention throughout the read. Bravo. Not only do you tell the story and put in the context of world affairs, but your eloquent words also reflect the majesty and mystery of this Grande Dame of transatlantic travel. The book's blue cover reflects the Blue Riband which she did win, bringing glory, all be it transitory, to France and the Compagnie Générale Transatlantique. Your book, in turn, should receive a blue ribbon!
I loved the third section of the book when the great ship spoke to me directly. What a novel way to tell part of the story.

Thank you to Richard Silvin to show and tell in an exuberant chronology. Nothing dry or un-interesting. What a skill!! (…) and I learned so much in so little time. Again, thanks to Richard's talent in human archaeology…digging up the facts. All in all, a perfect evening of a life we can look back on. (Marjorie Merriweather Post) was a pillar of a human being.