The History of Transatlantic Ocean Liner Travel
From Necessity to Glamour to Recreation
The first steps towards globalization were made in the late 1800s, when ships started to cross the Atlantic Ocean to connect the Old and the New Worlds. Initially a handful of pioneering businessmen, poor immigrants and merchants braved the often rough Atlantic in ships like the SS Great Western and the SS Great Britain.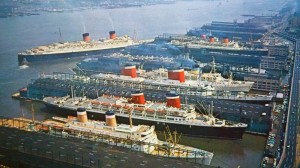 With the emergence of advancing technology, ships got larger, better, faster and more luxurious. The well-known story of the Titanic disaster only temporarily interrupted the confidence passengers came to have about safety. Within twenty years much larger and far more luxurious liners like the Queen Mary, the Queen Elizabeth and Normandie all contributed to making the ocean liner industry indispensable, glamorous and the envy of everyone who dreamed about romance, fashion and high society.
Many European countries started competing to capture the coveted Blue Riband, the award for the fastest ship to cross the Atlantic. The huge silver and onyx trophy that was bestowed with the award added to the winning nation's pride. The honor was passed back and forth between several European countries all of which continued to outdo themselves and their competitors.
René Silvin will take the audience through the emerging world of transatlantic travel, from its embryonic beginnings, to the magnificent floating museums they became, and the sad endings many of these great vessels had to endure.
The story covers the 20th century, including its two World Wars that both had a major impact on transatlantic travel. Although the industry bounced back from the ravages of WW2, the emergence of jet airliners as a much faster way to cross the Atlantic was the final blow to the proud ocean liners.
Some countries tried to salvage their passenger ships by turning them into stationary museums or hotels as the aging ships became obsolete. The industry evolved from "crossing" to "cruising."  With the focus on mass travel, cruise ships turned into oversized vessels, with a focus on recreation instead of glamour.