SS Normandie
The Tragic Story of the Most Majestic Ocean Liner
Most people are familiar with the dramatic sinking of the Titanic. However, three decades later an even more luxurious, more sensational, and more opulent French ocean liner sank in New York City. Silvin describes the ship as the "most beautiful object built by man during the Twentieth Century" as he brings the SS Normandie to life.

Why Normandie?  René's parents lived on opposite sides of the Atlantic throughout his childhood. This unusual situation created the opportunity for him to travel frequently on the great French and British liners that survived the Second World War, like the Liberté, the Ile de France, the Queen Elizabeth and the Queen Mary. These regular crossings constitute his happiest memories and gave rise to a life-long study of ocean liners, most notably the legendary "floating museum" Normandie.
The lecture begins with a review of the history of transatlantic travel during the Nineteenth Century, when countries competed to own and operate ever larger and faster ocean liners. These ships became symbols of technological progress as they connected the Old and New Worlds. The presentation then focuses on the Twentieth Century when the race to build the ultimate ship reached its pinnacle, beginning in the "roaring nineteen twenties." Each competing European country sought to have the largest, fastest and most luxurious liner. The various countries' flagships became national ambassadors, proudly boasting each individual nation's technological achievements and style.
When Normandie made her inaugural entry in New York on June 3, 1935, it is estimated that two hundred thousand spectators lined both sides of the Hudson to welcome her. Silvin explains why most authorities consider the Normandie the ultimate luxury liner. The sleek leviathan was a unique trendsetter, a "floating museum" as many called her. She was a ship offering the finest service amid the best example of Art Deco style. Her Grand Salon and Winter Garden were the locations where the world's most sought-after entertainers performed, where elegant soirees were conducted and refined conversation took place.
Normandie was loved by glamorous and sophisticated actors, brilliant philosophers and playwrights, world leaders and politicians, business magnets from both sides of the Atlantic, and by many fortunate ordinary people.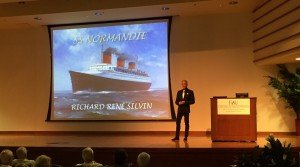 The audience will become conversant with the coveted "Blue Riband" award given to the fastest ship to cross the North Atlantic. The prize that became synonymous with national prominence and identified the ship's country of registry as deserving the reputation for achieving the highest industrial accomplishment.
Finally, Silvin describes the perfect storm of events that took place while the rechristened USS Lafayette was being converted into a troop ship at the outbreak of the Second World War. Normandie's untimely and futile death eliciting concerns that the new war had already reached American shores.