NOBLESSE OBLIGE
The Duchess of Windsor as I knew her
With the recent comparison of Meghan Markle to Wallis Simpson, as well as the popular Netflix series "The Crown", the Duchess of Windsor has become a hot topic once again. This updated presentation will include clips from "The Crown", illustrating what the series got wrong, and what they got right.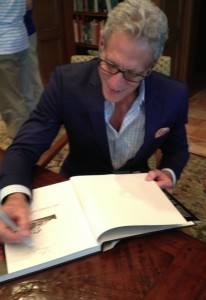 Silvin's mother was a friend of Wallis Simpson during the abdication crisis in 1936, and he later ran the famous American Hospital of Paris, which was the sole beneficiary of the duchess' estate. These two events, position him to know of many stories about the Windors, whom he calls the "King and Queen of international high society."
In this new version of Silvin's presentation, he will reveal untold details about the Windsors, and several of their friends' infamous and dramatic lives. This includes the contentious custody suit for "Little" Gloria Vanderbilt; the brutal, unsolved death of Sir Harry Oakes; William Woodward's death at the hand of his infamous wife, Ann; and how Maître Blum, the sole executor of the duchess' estate, abused the dying duchess.
For the first time, Silvin will disclose how Aristotle Onassis died under strange circumstances at the American Hospital. This includes glimpses of how the "Golden Greek's" widow, Jackie Kennedy and daughter, Christina, behaved in the weeks leading up to Ari's death, and how the duchess saved Silvin's career when he exposed the sordid details.
The audience will be transported into a story only the duchess' unlikely protégé could reveal while he gives a new view of what he calls "the unfairly demonized duchess."