Life and Work of Addison Mizner
In this presentation René Silvin will describe the life of the elusive society architect, Addison Mizner beginning with his childhood and covering his disparate and little known early life. The presentation will then discuss Mizner's arrival in Palm Beach in 1917 and the reasons for his success while he was sponsored by his mentor and financier, Paris Singer. Their first major foray into Palm Beach architecture was what became the iconic Everglades Club on Worth Avenue.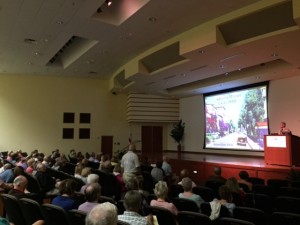 Through pictures and descriptions we will see the various influential people in Mizner's life. The presentation will focus on several magnificent houses including the most important ones, and their owners, many of which were destroyed in the 1950's and 1960's.
The audience will learn about Mizner's dream of building a model city in the Venetian Style at an unincorporated area then-known as "Bocaratone" in 1925. Silvin will explain the history of Mizner's now-world famous Boca Raton Resort and Club, which was not intended to be that city's main and largest hotel, his several never-built mansions planned to be along A1A, the buildings he did design and build in Boca Raton and his one successful residential area: Old Floresta.
While Mizner's name is well known to everyone familiar with Palm Beach County, few people know much about this mysterious, nearly indefinable, charming and talented world class sophisticate. Silvin will give the audience a clear understanding of how this man, who only rose to prominence and success in his middle age years, was able to charm many of America's business and industrial leaders.
René will also discuss the creation of Mizner's own home, Villa Mizner, and the subsequent owners, who all had a great impact on Palm Beach in their own way.
Mizner's unique personality and dangerously symbiotic relationship with his brother, Wilson, inspired Stephen Sondheim to write the musical, Road Show. Finally, Silvin will discuss the reasons the Mizner Development Company, which owned the nascent city of Boca Raton, went bankrupt. This accelerated Mizner's failing health. He passed away in March of 1933, and is remembered as the man who created not only the "Palm Beach look" but the "Mediterranean Revival" style. Sadly,  he died bankrupt, intestate and without work.